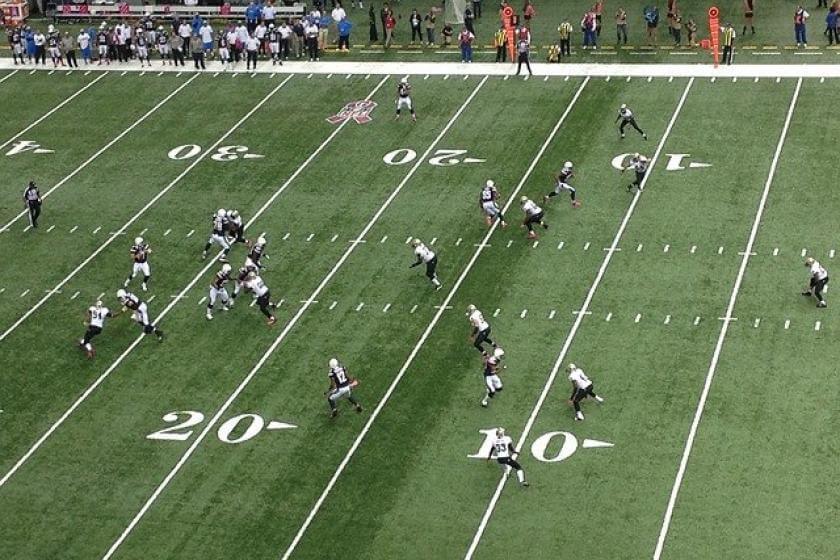 Details

Published on 06 October 2021
(Source: Pixabay)
The National Football League's long history of experiences – good and bad - with emerging technology products and services provides pure B2Bers with time and effort-saving learnings.
Long thought to be business-to-consumer organizations by their B2B counterparts, enterprise IT would be well advised to keep a close eye on sports entertainment entities that it turns out play in both spaces simultaneously. Why sports? Because they have years of hands-on experience with emerging technology products and services that most others can benefit from.
Whether it's Wi-Fi 6, 5G, analytics, facial recognition, or video capture and distribution, the National Football League (NFL) has been there and is doing that on either a league or team venue-wide basis, accumulating expertise in areas of interest to B2B firms.
Sports leagues are B2B and B2C entities
Like other sports leagues around the world, the NFL's B2B product is live sports content (programming), with contests carried live by the broadcast TV networks (that originally took the sport to the masses) as well as Internet streaming services in the U.S. and abroad.
Yes, the NFL, like other sports leagues, also doubles as a B2C operation, with a key slice of its revenue initially started as ticket sales for fans in the stands and has evolved to monetizing followers through stadium-wide Wi-Fi to keep them engaged with all forms of social media and video sharing sites. Secondary revenue streams are concession and merchandise sales.
It was little surprise when the NFL branched out into console gaming with its wildly popular Madden partnership with EA Sports, which in turn has given rise to e-sports. Several team owners across U.S. pro sports have taken stakes in e-sports teams.
Another means to grow the leagues is through sports betting, which is widely available and helps sports attract additional viewers.
Technology Experiences
Facial recognition: security vs. privacy
Early testers and users of facial recognition technology: Super Bowl 35 was among the first entities in the U.S. to try it in 2001 in Tampa, less than a year before the world-changing terrorist attacks on 9/11. The league's New Orleans Saints were among the first (2020) to use facial recognition systems to control access to the club's practice facility. This made the Saints one of the first in the U.S. to employ it for a non-law enforcement application.
The Cleveland Browns announced early in the season that they are using a facial recognition option as an alternative to paper and mobile tickets for fans. "Fans can enroll and link their ticketing account to a selfie and come to the stadium and enter in with just their face," explained Brandon Covert, VP of Information and Technology for the Cleveland Browns, in an interview with WKY-TV in Cleveland. Covert says this will make for a faster experience. "Fans don't have to use their phone, don't have to add tickets to their wallet, which is already a good process. This makes it just even quicker."
Other venue owners are exploring the controversial tech as a means of ensuring that fans who have been banned from their stadiums for bad behavior don't gain access to the facilities.
Wi-Fi: Then and now
Since pioneering stadium Wi-Fi use with the league's inaugural implementation nearly a decade ago in 2012, the New England Patriots, the football club, has upgraded the connectivity foundation multiple times and just recently worked with partner Extreme Networks in the last year for an installation of Wi-Fi-6 (aka 802.11 ax) to stay ahead of soaring use at the over 65,000-seat multi-purpose stadium.
The emergence of stadium Wi-Fi has been a hit with smartphone-toting fans and content creating teams, the league, and an array of team and stadium apps that engage fans and enable functions and processes. Fans have responded by using the stadium Wi-Fi networks and cellular services to share content with social media sites and to send images and videos to friends.
Analytics
Like a huge swath of enterprises, the NFL has used a variety of technologies, including Wi-Fi analytics packages, to gain vivid insights into fan activity and to help monetize the fans. An offering like Extremes has been providing teams and Super Bowl hosts granular data to identify usage trends and plan their underlying networks accordingly.
Video networking and distribution
Given that the NFL's B2B product is live sports programming with frills, the other Bs are the TV broadcast networks and, more recently, streaming services. The league has used technology to improve and expand both live and on-demand video content for many years. It created two coveted premium channels of its own – NFL Networks, which carries Thursday Night Football, and NFL RedZone, which is a live offering show scoring clips of all games played on Sundays.
A big slice of NFL stadiums has already been equipped with networked HD video cameras to provide 360-degree replays for fans in the stands, NFL websites, and highlights shows. These ring-based systems from Intel can require a mini data center connected to a GPON network to carry and process the huge amount of video used to create next-gen replays. Fiber and football go together.
Going global, through streaming
Enhancing the programming product and expanding its use are core to the NFL's B2B business strategy. That's why the league has formed streaming deals in Canada, China, Europe, and beyond in its efforts to take their live games (with ads and sponsorships) global. That has been aided by holding two regular season games a year in the U.K.
Works in progress
Some of the NFL's tech initiatives have been met with headwinds and delays, most notably the league's mobile ticketing mandate this year that eliminates the use of paper tickets and has angered fans because of long waits for entry because the Wi-Fi doesn't provide a strong or reliable enough signal to scan the tickets in the cellphone's Google Wallet.
Changing or replacing long-standing processes, whether for business or consumers (fans), is yet another area where the NFL and other pro football leagues have much in common with B2B enterprises. And enhancing current content products needs to work for everyone as the league serves two interconnected customer bases: businesses and consumers.