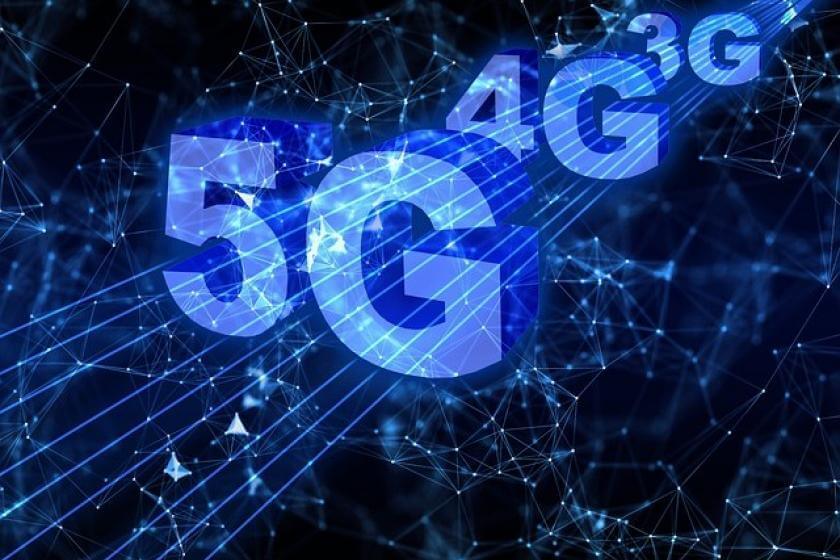 Details

Published on 02 May 2022
(Source: Pixabay)
Carriers' broadband deployment plans focus on fiber. But a growing number are also using FWA as well. What do IT managers need to know about the alternative to fiber as carrier decisions factor in your network expansion and enhancement plans?
Carriers' broadband deployment plans focus on fiber. But a growing number are also using FWA as well. What do IT managers need to know about the alternative to fiber as carrier decisions factor in your network expansion and enhancement plans?
Why? While fiber can provide higher speeds, FWA is quicker to deploy, more reliable, and a cheaper means to provide high-speed Internet access in areas that lack broadband. In these scenarios, carriers cannot ROI-justify the time and cost of laying fiber or running it across phone poles to remote areas.
FWA is an increasingly attractive alternative to wired broadband Internet options at a time when carriers are looking to match the media with the population to ensure the service takes rates in their areas are sufficient to provide a profit and avoid a fiber bubble from overbuilding.
Broadband funding
The combined funding pool, which is approaching $100 billion, is fed by the FCC's Rural Digital Opportunity Fund (RDOF) and President Biden's $1.2 trillion Infrastructure Investment and Jobs Act (ARPA), which looks to bankroll the expansion of broadband throughout the nation.
Top considerations for IT managers
A sunny forecast. The economics and data rate performance of FWA are finally becoming competitive with that of wired internet services, according to Deloitte Global. The company predicts that the number of FWA connections will grow from about sixty million in 2020 to 88 million this year, with 5G FWA representing almost 7% of the total. "While our analysis reveals a 19% 2020–2026 CAGR in total FWA connections, 5G FWA connections will grow even faster, at a CAGR of almost 88%, over the same period," wrote the authors of the Deloitte Insights report.
Deployment. If you are looking to quickly extend your corporate network to new locations such as small branch offices and remote workers in un or underserved areas such as rural regions, FWA is the answer since the radio frequency-based systems do not require digging, and the process carriers must go through for builds in municipalities. And do not forget winter weather in much of the U.S. as an impediment to digs for fiber.
FWA systems (typically point-to-multipoint) are above ground and can use different radio frequencies to deliver service to special CPE at the business or residence in an expedited manner.
Availability. With fiber, businesses risk service interruptions from cable cuts and damage from storms and car accidents to phone poles atop which the cables are often strung to speed rollouts, especially in rural areas. With carriers looking to use both media, compare SLAs for availability and other essential metrics such as mean time to repair.
Performance. In many cases, fiber systems can be upgraded to support higher speeds than FWA. But that does not mean the wireless option is not sufficient for the needs of potential network locations and WFH residences. FWA systems can support a wide range of speeds that exceed one hundred Mbps when supporting 5G technology.
A quickening ROI for carriers?
ROI-focused carriers are unlikely to use fiber to reach all unserved and underserved rural areas, opting for the quicker to deploy and less expensive FWA approach for home broadband.
Global carrier equipment maker Ericsson sees Fixed Wireless Access (FWA) as an efficient and scalable alternative to wired connections. "With smart and targeted deployments, our studies show that the investment typically pays off in less than two years." The vendor believes it can help its operator customers accelerate this in instances where 5G technology is used.
Over 75 percent of service providers now offer FWA. In October 2021, Ericsson, for the sixth time, updated its study of retail packages offered by service providers worldwide. Out of 312 service providers studied, 239 had an FWA offering, representing an average of 77 percent globally. Service providers' adoption of FWA offerings has more than doubled in the last three years.
Looking ahead
How fixed wireless access is being offered: Ericsson survey says…Ericsson's updated study of retail packages offered by service providers worldwide in October of last year provided important detail on how carriers structure FWA for their customers.
The majority (88 percent) of FWA offerings are best effort with a monthly volume tariff plan based on usage (GB/month), according to the survey. However, 12 percent of service providers respondents offer a QoS. Ericsson defines this as selling FWA services "with speed tiers, which it claims enables higher monetization, akin to how fiber-based broadband services are offered."
Forty percent of these QoS offerings are basic, with average/typical speeds being advertised, the vendor added. "Some 60 percent are more advanced QoS offerings, involving speed tiers, such as 100Mbps, 300Mbps, and 500Mbps."
QoS in the U.S. Service providers with 5G fixed wireless access are more likely to have a QoS offering, with seventeen out of fifty-six utilizing this approach (30 percent), according to Ericsson global service provider survey. North America is the region with the highest adoption, with 40 percent of all offerings based on QoS.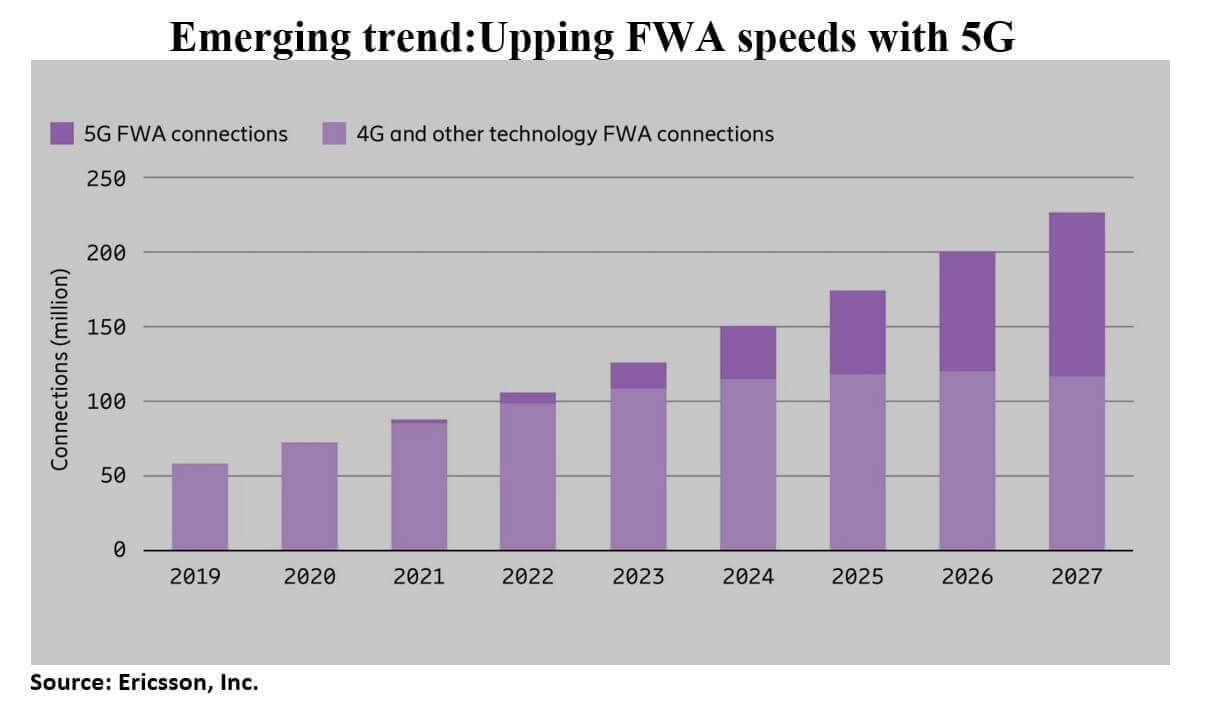 FWA CPE prices fall, choices expand. It appears 5G FWA deployments are being driven by lower costs CPE, something Dell'Oro Group identified over a year ago. The cost for indoor 5G FWA CPE is expected to drop from $475 in 2020 to $180 by the end of 2023.
"The global demand for broadband service has resulted in an acceleration of interest among fixed and mobile operators alike to either expand their existing LTE or point-to-multipoint fixed wireless access (FWA) offerings or roll out early 5G FWA services to a growing base of current and potential subscribers," explained Jeff Heynen, Vice President, Broadband Access and Home Networking at Dell'Oro Group, a market research and analysis firm.