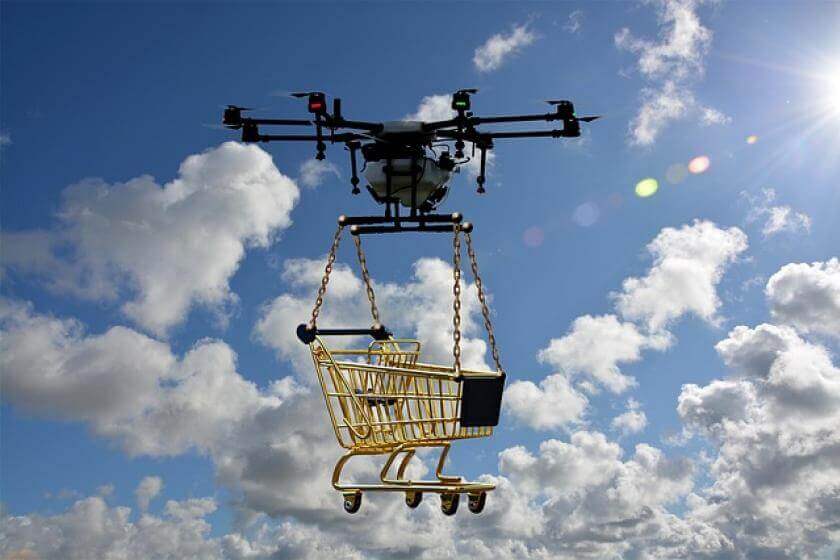 Details

Published on 02 September 2022
(Source: Pixabay)
Early implementers favor partnerships over Amazon's expansive, do-it-yourself model. What are the top considerations for IT leaders?
Retailers Walmart and Walgreens continue to move forward with drone delivery services, even as innovator Amazon has yet to launch its decade-in-the-making offering.
That is because enterprises are evaluating drone delivery alternatives to time and resource-intensive DIY internal efforts that allow IT managers in retail to get running and valuable experience faster.
Drone delivery progress report
Amazon rival Walmart has been delivering items from select stores in its home state of Arkansas via drone for a year through a partnership with innovator DroneUp, a drone delivery flight services provider. Another competitor, Alphabet's Wing, launched commercial drone deliveries in Texas in April with customer Walgreens pharmacies.
In late May, David Guggina, Senior Vice President of Innovation and Automation, Walmart U.S., announced in a blog that Walmart-DroneUp would be expanding its delivery network partner to 34 sites by yearend. This provides "the potential to reach 4 million U.S. households across six states – Arizona, Arkansas, Florida, Texas, Utah, and Virginia. This provides us the ability to deliver over one million packages by drone in a year."
The drone opportunity
Drone package delivery is alive and well, according to a team of experts at McKinsey's Aerospace & Defense Practice, who has been tracking its emergence on a global level and have identified three keys to those looking to launch.
"The industry is real and booming," according to the McKinsey team. "Over the past three years, there have been over 660,000 commercial drone deliveries to customers, not including the countless test flights to develop and prove the technology."
In fact, the team wrote, drone deliveries had become a daily occurrence. "As of early 2022, we estimate that more than 2,000 drone deliveries are occurring each day worldwide. The growth rate is accelerating every week, and we project that there will be close to 1.5 million deliveries in 2022, up from just under half a million in 2021."
Critical juncture
While drone package deliveries are growing, and important indicators are positive, the management consulting firm sounded words of caution about the road ahead.

"We are at a critical time in the drone delivery industry. Volume has grown dramatically in recent years, but the path ahead is not yet clear," according to McKinsey. "Regulations, customer acceptance, and cost will all determine whether the industry reaches its potential to disrupt global logistics or remains limited to isolated applications."
Key factors for enterprise IT leaders:
1) Regulatory landscape
The regulatory landscape can make or break an enterprise's drone delivery undertaking by dictating the scale and scope of the operations.
"Regulation dictates the type of operations allowed, including parameters related to geographic areas and airspace, times of day, and the conditions required for flight. All these factors can have a large impact on costs," according to the McKinsey team.
"Regulation can determine or limit one of the key costs of launching drone delivery, the operator-to-drone ratio. There is a big cost difference if, for example, regulations require one operator for each drone or allow a single operator to control a dozen or more drones." Regulations also determine airworthiness requirements for drones, and the guidelines could potentially increase costs and delay at-scale operations, the McKinsey team wrote.
2) Public reaction (and acceptance?)
Another gating factor in the launch of a drone delivery service is the need to gain the public's trust and acceptance of drone delivery (and maintain it). New ways of doing business in towns and cities for visible approaches like drone delivery can evoke concerns by consumers.
The firm explained that actual adoption is likely to differ across neighborhoods depending on a variety of factors, including population density, geographic location, and local weather conditions.
3) Cost(s)
Consumers will favor deliveries with the lowest cost if all other factors are equal. While drone deliveries have grown markedly worldwide in the last few years, some only extend one mile from stores, as is the case with Walmart's program with DroneUp, as per FAA regulations.
4) Technology
Drone deliveries only go as far as a blend of technologies can take them. IT managers in retail and beyond need to plan accordingly as few have the deep pockets and technical resources committed to Amazon's undertaking.
The serial innovator has built many sophisticated delivery platforms. In a website posting dated June 13, the company claimed to have "created more than two dozen (drone) prototypes."
Further, Amazon has gone far beyond creating delivery drones themselves by building an advanced sense-and-avoid system to make air operations safer during flight.
Drones and the 5G advantage
The emergence of 5G networks can boost the operational efficiency of drones, according to Adam Schink, Senior Manager of Innovation & Scouting at BT Global, in The Future of Innovation: How 5G Is Pushing Drone Technology Forward.
"A connection to a 5G network means a drone can send information back to base in real time. Early drone technology meant all the information from drone-mounted cameras, sensors and telemetry could only be uploaded from the drone's hard drive once it had landed," Schink wrote. A 5G connection changes all that and opens new possibilities.