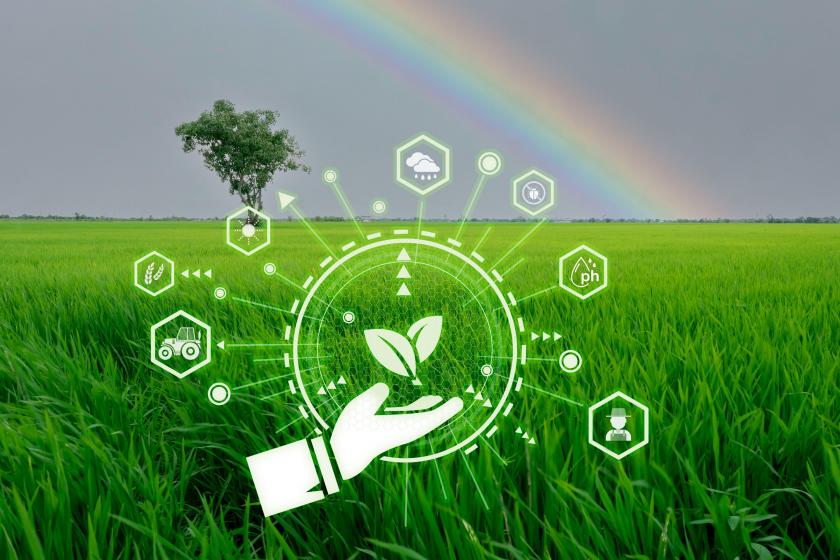 Details

Published on 12 October 2023
(Credit: Panther Media GmbH / Alamy Stock Photo)
Internet Use by Farms Edges Forward, But Precision Agriculture is Lagging
Half of U.S. farms appear positioned with the technology needed to improve the way they do business. But the other half doesn't. That's according to a report by the United States Department of Agriculture (USDA) National Agricultural Statistics Service.
At issue is the advancement of farming – referred to as precision agriculture. It's a long-standing strategy to employ advanced tech to react to changing inputs such as temperature and precipitation that factor into farm management. It requires the connection of machines, people, and technology.
Where are we with Precision Agriculture?
One-quarter of farms nationwide use precision agriculture, the researchers found. The report was based on a survey of 14,000 agricultural operations. USDA estimates that there are almost 2 million farms in the U.S.
To date, the tools for practitioners have been cellular and satellite-based, including Global Positioning System (GPS) and Global Navigation Satellite System (GNSS) services. The precision agriculture approach allows farmers to make important resource management decisions both on-site and in real time.
With greater bandwidth and broadband access (wireless), the list of precision agriculture toolbox will expand to include GPS yield monitoring and soil mapping, variable rate input applications, use of drones for scouting fields or monitoring livestock, electronic tagging, precision feeding, robotic milking, etc., the report said.
Precision Agriculture Practices, Leaders, and Followers.
Beginning in 2021, data were collected for precision agriculture practices with the question: "In the last 12 months, did this farm or ranch use precision agriculture practices to manage crops or livestock?
More recently, four Midwestern states exceeded 50% percentage of farms using precision agriculture mark. They are North Dakota (57%), Nebraska (55%), South Dakota (53%) and Illinois (51%). Bringing up the rear is West Virginia, where only 8% of farms reported using precision agriculture.
Broadband Access is an Enabler
This year, 51% of surveyed farm operators claimed they had broadband access to the Internet. Perhaps more concerning is that only 25% of them are using it to practice precision agriculture.
"What we have been seeing is a continued steady increase in rural Internet access," said Tony Dorn, Chief, Environmental, Economics, and Demographics Branch of the FDA, of tech use among surveyed farmers from 2021 to 2023. The report noted that 2% of the farms surveyed still use dial-up internet connections.
Help is on the Way
In late August, the USDA announced nearly $700 million in grants and loans to connect thousands of rural residents, farmers, and business owners in 22 states to reliable, affordable, high-speed Internet through the ReConnect Program, funded by President Biden's Bipartisan Infrastructure Law. This program is uniquely designed to fund the most difficult high-speed internet projects in the nation, which are the most rural, remote, and unserved communities.
The latest funding round includes $667 million in USDA investments in Alaska, Arkansas, Arizona, California, Illinois, Iowa, Kansas, Michigan, Minnesota, Mississippi, Missouri, Nevada, New Mexico, North Carolina, Ohio, Oklahoma, Oregon, South Carolina, Texas, Virginia, Washington, and Wisconsin.
What Constitutes a Farm?
According to the USDA survey, a farm is "any place from which $1,000 or more of agricultural products were produced and sold, or normally would have been sold, during the year." There was no revenue ceiling for large farm operations.
Farm Technology Use and Ownership Highlights
Nationally, 85 percent of farms reported having access to the Internet. In 2023, 32 percent of farms used the Internet to purchase agricultural inputs, which was an increase of 3 percent from 2021.
Agricultural inputs are defined as resources that are used in farm production, such as seeds, fertilizers, pesticides, veterinary drugs, equipment, animal feed, energy, and machinery.
Additionally, 23 percent of farms used the Internet to market agricultural activities, which was an increase of 2 percent from 2021. Farms, which conducted business with non-agricultural websites in 2023, increased by 2 percent to 49 percent.
In 2023, 51 percent of Internet-connected farms utilized broadband connections, while 75 percent of Internet-connected farms had access through a cellular data plan. Additionally, 69 percent of farms had a desktop or laptop computer, while 82 percent of farms had a smartphone.
The Final Word on Farm Technology Use and Precision Agriculture
For the application of technology to move the needle for the future of farming, it appears these operations need to transition from today's practice of data transmission over low-speed links to massive data movement and analysis enabled by high-speed services such as 5G.
Once all parties in the farming industry ecosystem view farms as data centers as opposed to fields of crops, owners will be in a position to manage their assets using precision agriculture.
Related articles: