Articles
Sample Articles from Bob Wallace.
Read More about Bob.
CDNs Evolve: Four Trends to Watch in 2019
Details

Published on 01 February 2019
Content delivery networks now offer a variety of value-added services and features including event monitoring and management packages, enhanced security, and more.
Content delivery networks (CDN), have helped businesses get rich media content from origination to consumers since just before the turn of the century. These international networks of servers and edge devices loaded with feature-rich software have since improved streaming quality, raised download speeds, and supported ads. Challenges remain with climbing video use.
CDNs Then…
CDNs came to be because businesses began adding rich media content to their websites. That and increased traffic loads often crippled the sites or knocked them out altogether. Owners could neither predict nor plan for these costly instances. Frustration soared as angry customers couldn't buy products from e-commerce sites, nor could they receive video content when they desired. Throwing servers at the problem was not a viable response.
Enter CDN services, which offered businesses an affordable and effective alternative to building and maintaining networks themselves. The CDN architecture focused on delivering rich media content cached in the network from edge servers closest to the customer, speeding the process and cutting latency, packet loss, and more. It also eliminated a single point of failure for customers.
How to Watch, Stream Online New England Patriots vs. Houston Texans Live on fuboTV Sunday
Details

Published on 06 September 2018
Fans Can Watch this Matchup Free on fuboTV
NFL fans continue to search for flexible and less expensive ways to watch their teams, with many cutting the cord in favor of live streaming from Internet TV services. But who has fan-friendly options?
Thankfully, sports-first streaming innovator fuboTV has an attractive alternative for you to watch your favorite teams. Better still, fuboTV is a monthly sports-loaded service without contract commitments. The streaming service also features scores of news and (non-football) entertainment channels.
The live streaming service has the game covered in Boston with a cloud DVR feature and a newly added Las Vegas betting information channel.
Click here to watch the Patriots-Texans live stream on a computer via the FuboTV website, or on a phone, tablet or streaming device via the FuboTV app.
The Matchup – Patriots vs Texans
Date: Sunday, Sep. 9
Time: 1 p.m. ET
Location: Gillette Stadium – Foxboro, Massachusetts
TV: CBS
The Patriots are coming off a painful Super Bowl loss and hope to become the first team in decades to win the big game after losing it the prior year.
The Patriots' home opener vs. the defensive-minded Houston Texans will prove an early test for both post-season minded clubs. The home team is light on receivers and offensive linemen for QB Tom Brady, but loaded with running backs. The visiting Texans are loaded on defense from the line to the secondary and are looking to promising sophomore QB Deshaun Watson (out much of last season with an injury) to lead an offense with postseason aspirations.
The Texans have taken the Patriots to the wire in their last regular and post-season matchups.
The Patriots will be facing fast pass-rushing standouts J.J. Watt, Jadeveon Clowney and Whitney Mercilus with a reworked offensive line minus Left Tackle Nate Solder (now with the Giants) and Right Tackle Marcus Cannon, who has battled injuries in training camp.
Trending/Back in the News: Verizon's 5G Broadband Plan Includes Apple TV 4K and YouTube TV
Details

Published on 21 August 2018
Tackling Tech: Inside Verizon's Super Bowl Wireless Plan
What could be better for a hardcore football fan than to help plan wireless coverage for the NFL's Super Bowls, which has come with the opportunity to attend the events?
Thanks to the intersection of technology and sports, Verizon's Brian Mecum, is living and working a dream that others can only hope for at bedtime. But if you think planning for new and upgraded distributed antenna systems (DAS) for NFL venues both new and older is a light-lifting, walk in the park, think again.
Soaring fan video demands have called for Mecum to build brainier and brawnier wireless systems.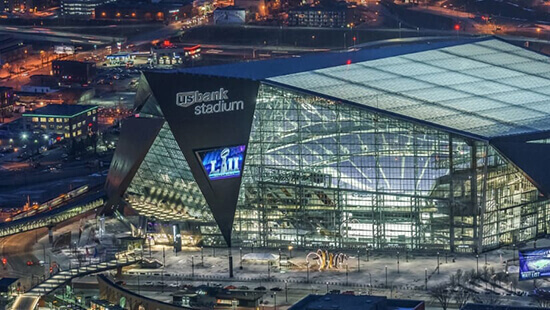 "We have learned from usage and from habits," said Mecum, who serves as Verizon's Vice-President for Network-West. He's responsible for helping drive network planning for the service provider and has worked on the last several Super Bowl wireless projects.
Trending/Back in the News: FuboTV Lands $75M in Funding, Adds Stations as World Cup Nears
Details

Published on 17 May 2018
Tackling Tech: Sports-First OTT Services Emerge
Originally Published: Thursday, August 10, 2017
It may sound like a TV service for the "other" football, but well-funded fuboTV has assembled a streaming sports-first lineup that offers fans of America's game an alternative to cable TV packages, a model to be followed starting later this year by Disney/ESPN and CBS.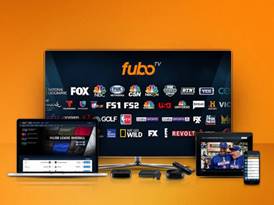 fuboTV's international approach includes offering channels and regional sports networks that together offer depth in live game coverage. Source: fuboTV.

FuboTV's sports-depth approach actually puts it far beyond current competitors DirecTV Now, Sling TV and PlayStation Vue in total coverage as it offers a channel lineup featuring sports around the world with some in foreign languages. That's on top of live sports coverage in the U.S. of the NFL, the NBA, the NHL, Major League Baseball, golf and others.

And yes, with fuboTV you get your staple news, niche and broadcast TV staples as well, all for $35 a month. FuboTV has a very heavy load of global soccer channels and should appeal to Spanish- and Portuguese-speaking consumers with channels from Univision and Telemundo, among others.

Read more.
Trending/Back in the News: Precision Sports Technology
Details

Published on 19 April 2018
Tackling Tech: Colston Moves from NFL Stardom to Driving Athlete Analytics for All
Originally Published: November 9, 2017
In his 10-season NFL career as a target for Hall of Fame-bound QB Drew Brees, Saints Star Marques Colston got up close and personal with sports technology, but with annual offseason visits to the operating room for injury repair.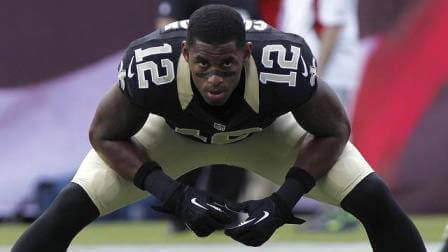 Colston led the Saints to a Super Bowl Championship. Now he's leading sports tech companies toward the end zone. Source: GetTheDuckBoatsReady.com
Now, the NFL alum-turned-sports-tech-expert-and-entrepreneur is working to take the (price) pain out of athlete performance management through an upstart that's created an app, wearable and subscription service. The package has been created to bring vital data to the masses, not just elite athletes in the top four U.S. pro sports as many breakthroughs do today.
Tackling Tech: NFL, Investors Examine Faster Cartilage Repair Process
Details

Published on 15 February 2018
You don't need an MD next to your name, or an advanced biology course under your belt, to know that better, faster and smarter are powerful selling points for a sports science company looking to streamline cartilage repair.
This is the message Cartilage Repair Systems LLC of New York, N.Y. brought to the NFL's prestigious "1st & Future"competition for upstarts pioneering player safety and recovery technologies. It applies to athletes with knee cartilage injuries here and abroad.